Using Photographs to Illustrate Lessons
by Ferrell Jenkins
Many preachers and teachers now have the capability to use PowerPoint presentations. The use of this aid has become so common in the business world and academia that most folks take it for granted. There are a few disadvantages in the use of PowerPoint for teaching the Bible, but the advantages far outweigh them. Like any tool it can be misused, and we need to spend time learning how to use it effectively.
The Bible is rooted firmly in history. Abraham, David, Ezekiel, Jesus, and Paul visited real places during the days of great empires and notable rulers. Perhaps no book is more easily illustrated with historical photographs. Clip art is nice for some purposes, but it lacks the appearance of reality.
Even when we have a good slide or photograph from the Bible lands, converting it to the digital format can be time-consuming and costly until now. It has been difficult to locate photographs of consistent high quality, high-resolution, to use in sermons and classes.
The Pictorial Library of Bible Lands has been produced by Todd Bolen, who currently teaches in Israel. He has traveled throughout the Middle East since 1990. At this time there are 10 CDs in this set. Each CD contains three programs for viewing the photos. The photographs are in a resolution of at least 1600x1200. A smaller image is included in a PowerPoint presentation, many of them with captions. Unless I am looking for something specific from a large image, I just copy the PowerPoint image into my own presentation.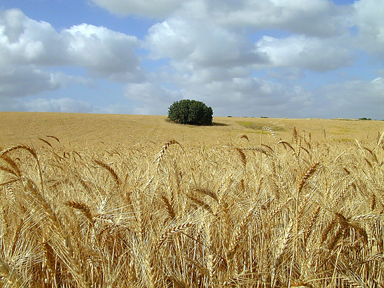 Wheat field at harvest time in the Shephelah of Israel
The CD set includes Galilee, Samaria, Jerusalem, Judah, Jordan, Egypt, Turkey, Greece/Rome, Aerials of Judah and Jerusalem, and a Scripture Photo Tour. Some museum photographs are also included. Each CD contains approximately 500 images. I have had my set for about two months and I am still amazed at the number of photographs and the wide coverage. These photographs were taken with an eye to teaching. Each CD contains an index of the complete set. There are some hidden surprises. For example, you will find Cultural Pictures (plants, agricultural and religious practices, a scribe, etc.) in the Samaria CD.
It is to be expected in a massive project like this that some of the images are better than others. I think you will be more than pleased with what you find. I have my own pictures of many of the sites but I often find it more convenient to use these. These photographs tastefully included in your lessons will make them come alive in a way not possible before.
Each CD sells for $30 (about 6 cents an image!), and the entire set can be purchased for a little more than $200. The Pictorial Library of Bible Lands comes with a 100% satisfaction guarantee. Every church making any use of digital equipment should have this set of material. To see samples of the photographs, and to place an order, go to BiblePlaces.com on the Internet. Sign up for the Newsletter and you will get lots of freebies along the way. We thank Todd Bolen for permission to use two of his photographs on our cover this month. I will keep a link to his site at biblicalstudies.info.
Photos © BiblePlaces.com 2003.

---
This article was published on the back cover of Biblical Insights, June, 2003. Check the Biblical Insights web site for more information about the magazine.